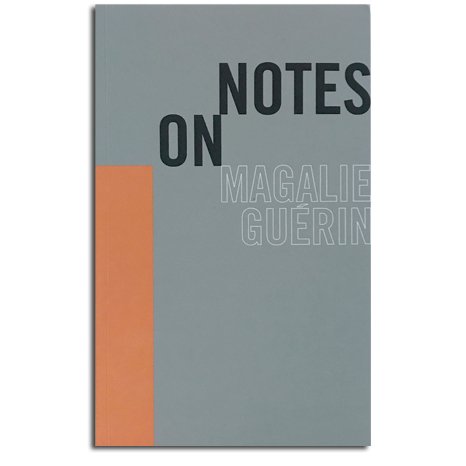 Magalie Guérin
$20.00
Second edition of NOTES ON, Magalie Guérin's a-chronological studio diary from The Green Lantern Press.
Originally published in 2016, NOTES ON documents Magalie's painting process, mapping the intersection of personal, professional, and creative spheres that capture the shifting gray area between self-doubt, self-awareness, and creative breakthrough.
Magalie Guérin was born in Montréal in 1973. She lives and works in Chicago, primarily in painting and drawing and is represented by Corbett vs. Dempsey. NOTES ON is her first book.
Book design by Sonia Yoon, preface by Caroline Picard, and afterword by Molly Zuckerman-Hartung.

Praise for the book:

"How does one become an artist? By turns earnest, exasperated, and exhilarated, Magalie Guérin's NOTES ON provides a fascinating, behind-the-scenes account of one painter's progress. Transcripts of grad school crits, studio visits, and Guérin's own diaries and notebooks are combined to demonstrate how—between an individual's defeats and triumphs—a language of visual art is devised." — Chris Kraus

"NOTES ON knits together an intricate and impressive network of friends, acquaintances, mentors, and peers whose critical insights converge on painter Magalie Guérin's studio practice. Expanding on the tradition of Richter's The Daily Practice of Painting, its multitude of voices—including Guérin's own—foregrounds discursiveness and its role in shaping contemporary art. But there is also magical thinking afoot. What Guérin disregards from her collection of studio generated language tells us as much about her creative process as the words and ideas she shares with us." — Michelle Grabner

"The book is a disjointed jumble by design, but it coheres into a strangely delightful whole, one which offers a necessary and profound demystification of an all too often mystified profession, revealing how concrete and layered such an artistic career can be: how utterly dull and exciting at the same time."—Kathleen Rooney, Chicago Tribune