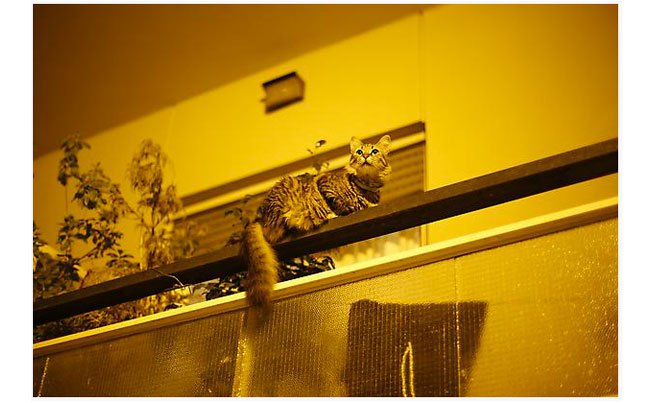 David Hartt opens at David Nolan Gallery
Feb. 19, 2014
NEW YORK – On March 6th, artist David Hartt opens The Republic, an exhibition of new photographs, film, and sculpture, at David Nolan Gallery.
Press Release:
David Nolan Gallery is pleased to announce The Republic, an exhibition of new work by David Hartt. On view from March 6 through April 19, this is his first show with the gallery.
As a point of departure, the exhibition explores the proposed city plans of Greek urban planner Constantinos Doxiadis for both Athens and Detroit. In 1961, Doxiadis was commissioned by the Greek military junta to develop the master plan for Athens and to bring some order to the explosive post-war growth and urbanization the city was experiencing. In 1965, he was commissioned by Detroit Edison to lead the "Developing Urban Detroit Area Research Project." The fall of the junta in 1974 and the Detroit riots of 1967 changed the historical trajectory of the both cities and neither commission was realized.
The artist's ongoing inquiry into the ideological implications of architecture engages a variety of media. Central to the exhibition is the film "The Republic," shot in both Athens and Detroit. The footage, set to a score by Sam Prekop, is montaged so that the locations become indiscernible and a hybrid city-state emerges. Interspersed at random moments throughout the film is a group of laborers who flip an automobile in a winter landscape as both an invocation of the myth of Sisyphus and a reenactment of civil disorder. Elsewhere in the gallery, full scale cast bronze acanthus plants sprout from the floor, and on the wall is a photograph of a cat who has begun to disappear under the glare of sodium vapor lamps.
David Hartt (b. 1967, Montréal) currently lives and works in Chicago. He graduated with an MFA from the School of the Art Institute of Chicago in 1994. His exhibition Stray Light, organized by the Museum of Contemporary Art, Chicago (2011) travelled to the Studio Museum in Harlem and the Henry Art Gallery, Seattle (2013) and will open this May at the Carnegie Museum of Art, Pittsburgh. In 2012 he was named a United States Artists Cruz Fellow.
March 6 – April 19, 2014
David Nolan New York
527 West 29th Street
New York, NY 10001
More information here: http://www.davidnolangallery.com/exhibitions/2014-03-06_david-hartt/
Image:
David Hartt, The Republic I, 2014, archival pigment print mounted to Dibond and framed, 59 x 88 1/2 in 149.9 x 224.8 cm