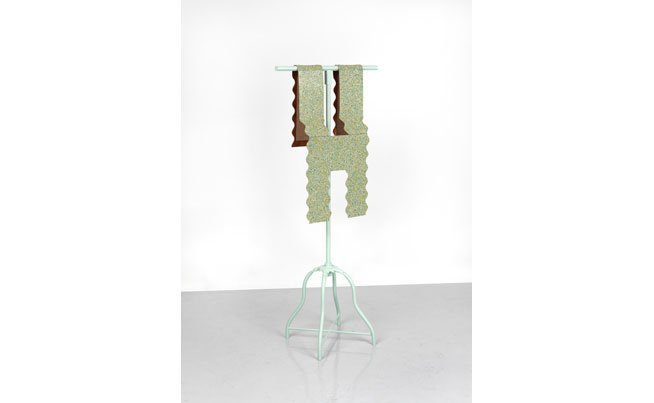 Diane Simpson in Bonsai #5 at Maccarone
June 25, 2015
NEW YORK – Maccarone is pleased to present Bonsai #5, a group exhibition that pairs Roger Brown's eponymous painting with the work of Carol Bove, Alex Da Corte, Peter Halley, Ken Price, and Diane Simpson.
Completed just before Brown's death in 1997 and part of his final five-part series of paintings of bonsai trees, "Bonsai #5, Literati (Bunjing)" was directly inspired by the artist's own practice of cultivating the dwarfed trees in his California garden. In essence, the cultivation of bonsais is an act of illusion — tiny trees are made to mimic their life-size counterparts; they are seemingly natural yet thoughtfully staged. In these final paintings, Brown reverses natural scale by placing miniscule human figures in landscapes dominated by monumental bonsais, thus articulating his lifelong interest in the constructs of dimensionality. Made when he was living with illness and mindful of his own mortality, the Bonsai series invokes the feeling of an imminent departure into a different dimension and highlights the human locus of scale somewhere between molecule and cosmos.
Brown's painting is accompanied by six works that also express an interest in dimensionality, staging illusion, and the transposition of large and small. Illusionism is incidental in Carol Bove's hallucinatory tracing, which elusively suggests an unnameable scale — the pulsing volume that hovers on the canvas surface could be on a molecular level at the same time that it invokes hermetic vibrations of the universe. In "Behind the Green Door," Alex Da Corte's suggestion of a trap door attempts to access fantasy through the simple handmade gesture of positioning velvet as void. In Peter Halley's "Power Interruption," the Day-Glo diagrammatic surface transfigures the concept of entrapment — synthesizing a micro reality and a macro visual experience, all with punk elegance.  In Ken Price's sculpture, small objects suggest ambiguous, unending expanses and operate as painting in 3D. Diane Simpson celebrates the notion of isometric perspective in all her works, morphing the three dimensional into two and then back into three, transposing the quotidian with the reverential.
All of the illusions at play in these works are attempts to gain access into realms unknown through familiar methods. In creating a universe in which human life is dwarfed by the bonsai tree, Brown hauntingly highlights the illusion of "being' at all.
For further information please contact the gallery at 212 431 4977 orpress@maccarone.net.