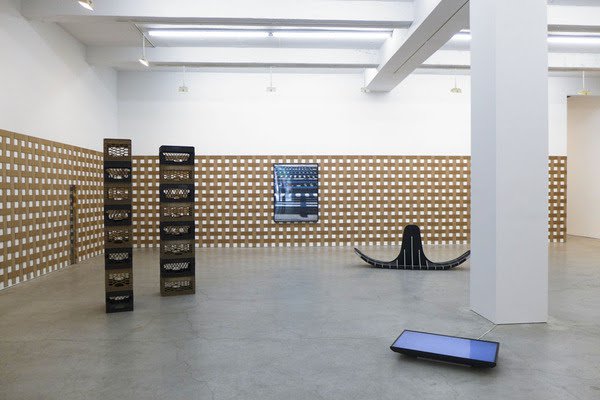 Diane Simpson in Over & Under at Sikkema Jenkins & Co.
June 6, 2015
NEW YORK – Sikkema Jenkins & Co. is pleased to present Over & Under a group exhibition organized with the cooperation of Matt Keegan and featuring work by Tony Feher, Charles Harlan, Bill Jenkins, Matt Keegan, Babette Mangolte & Trisha Brown, Virginia Overton, Kay Rosen, Diane Simpson, and Haim Steinbach on view from June 4 through July 24, 2015.
Over & Under presents various works that have a clear relationship to the history of Minimalism, as evidenced by their material economy and modes of display – Tony Feher's stacked plastic crates, Matt Keegan's cardboard lattice panels, and Kay Rosen's griddedwall painting, to name a few. Within this shared language of presentation, the artists also utilize a specific and related syntax. Predominantly rooted in sculpture, the included works employ familiar materials with a straightforwardness – meaning the viewer can map the process of making and/or assembly, leading to a conversational pace and interplay that weaves throughout the gallery.
Over & Under was organized with the cooperation of Brooklyn based artist Matt Keegan. Keegan's solo exhibition, Portable Document Format is currently on view at RogalandKunstsenter in Stavanger, Norway through June 7, 2015. A companion publication will be released this fall. Keegan's work is also included in Storylines: Contemporary Art at the Guggenheim on view at Guggenheim Museum in New York from June 5 through September 9, 2015.
Click here for images and more information.