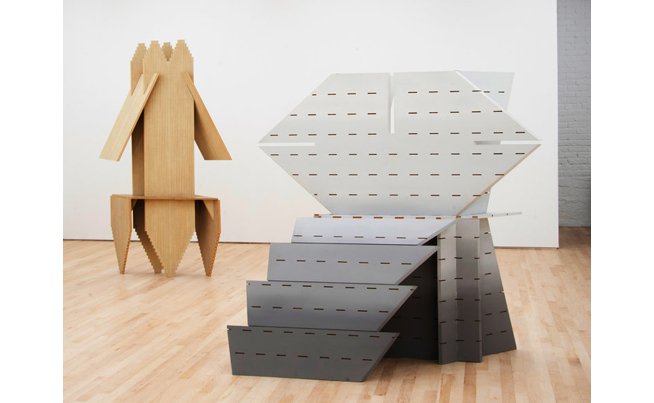 Diane Simpson in The New York Times
Dec. 22, 2016
NEW YORK – The Chicago artist Diane Simpson's magical sculptures crisply demonstrate the multiple time-traveling identities of certain art objects.
Made of stained, delicately patterned pieces of medium-density fiberboard or wood inventively slotted together, these works brilliantly extend the tensile clarity of Minimalist structure while contaminating it with resonances of figures, garments and buildings. To do this, Ms. Simpson selectively borrows from the work of her hometown contemporaries, like the Chicago Imagists Karl Wirsum and Roger Brown. She also invokes a host of old and ancient crafts and forms.
In the case of "Samurai," a series of early works (1981-83) in her second show at JTT, the ancient culture is mostly Japan's. Yet, while the tapering small-waisted form of the light brown "Samurai 7" suggests an armored, crouched combatant, it also evokes the triangular bodice and full overskirt of an Elizabethan gown. "Samurai 9," in pale yellow, is a less lavishly outfitted adversary, ready to rumble, as well as a house with a sharply pitched roof. The deep-green "Samurai 8" suggests a castle keep; and the lovely "Samurai 10," with symmetrical curving planes of fiberboard for trailing sleeves, is a postbattle kimono and an abstract butterfly.
Ms. Simpson is very much in the details, restrained but complicating. Her stains are rarely the same tone on both sides of a board, nor are the finishing touches — like the stitchlike lines and dashes or, in the case of the kimono, a red windowpane grid that evokes textiles. Finally, most pieces are torqued off-square — right angles are scarce. Their distorted volumes and perspectives challenge comprehension and confuse inside with out and two with three dimensions. They are presences at odds with the world, which partly accounts for their proud, deliberate autonomy.
For full article, visit Artforum.