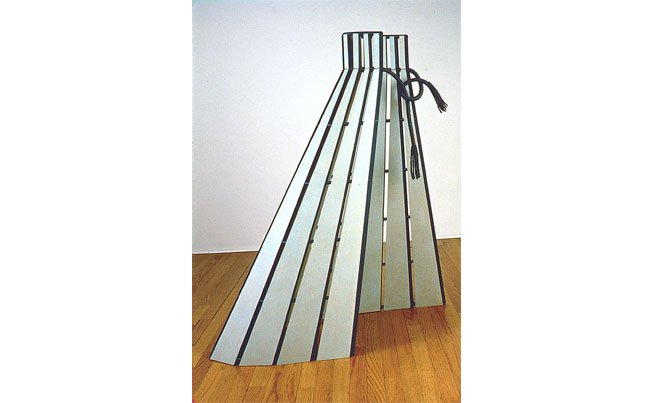 Diane Simpson in What Not to Wear at GWU's Brady Gallery
April 16, 2014
WASHINGTON, D.C. – Opening April 16, Diane Simpson's work will be on view at George Washington University's Luther W. Brady Art Gallery in What Not to Wear: Women Sculptors.
Press Release:
What Not to Wear: Women Sculptors
April 16-June 27, 2014
What Not to Wear: Women Sculptors features the work of ten contemporary women sculptors who create pieces that use clothing or its embellishment as the inspiration for their works, translating them into a form of artistic expression, sculpture, that was traditionally dominated by men.
Some of the works make statements regarding varied topics as a woman's role in society, pressure for a woman to stay physically desirable, or their subjugation through uncomfortable clothing. However, the exhibition focuses on the endeavor to translate forms found in fashion into sculptural works and demonstrate the translation of what was once "women's work" into inventive forms of sculpture. The artists confront these ideas through diverse and unconventional materials such as rocks and wire, MDF (medium density fiberboard), stone, feathers, paper, and aluminum.
Artists in the exhibition: Isabelle de Borchgrave, Michelle Jaffé, Laura Peery (MFA '78), Amalie Rothschild, Barbara Segal, Diane Simpson, Mandy Cano Villalobos (MFA '06), May Wilson, Susie B. Woods, and Joyce Zipperer. The exhibition is accompanied by a catalogue featuring essays by Olivia Kohler-Maga, Assistant Director and Sybil Gohari, Ph.D.
More information here.
Reviewed by Mark Jenkins in the Washington Post.
Image: Diane Simpson, Box Pleats, 1989, stain and colored pencil on MDF and wool, 46 x 42 x 20 inches.