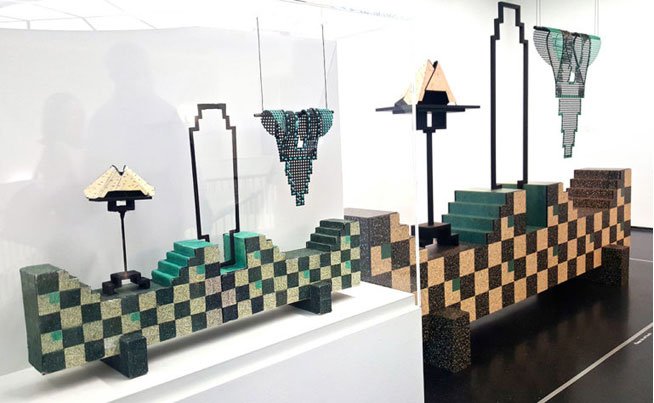 Diane Simpson reviewed in Hyperallergic
May 30, 2016
CHICAGO – Window Dressing, a solo exhibition of artist Diane Simpson at the MCA Chicago, receives a review by Sarah Rose Sharp in Hyperallergic.
Sharp pointed out the traces of Art Deco design, Asian influence, and childhood identity in Simpson's works, "They're a distillation of Art Deco design and research, and the repurposing of actual wallpaper and linoleum flooring from the time… She builds layer upon layer of pattern, structure, and embellishment into scenes that still manage to feel uncrowded and minimal. There's a decidedly Asian influence to her work, which comes both from her interest in Japanese inns and display packaging as well as from an integration of the Art Deco fascination with pan-Asian (particularly Japanese) style… Simpson is not simply enamored with bygone aesthetics — she was a child in the 1940s, and these motifs are part of her foundational memory and identity. Her reiteration of them, especially in conjunction with domestic themes, is a very sophisticated and practiced abstraction of what is fundamentally a child's enchantment with the world."
Read the full review here.
Diane Simpson's Window Dressing continues at MCA Chicago (220 East Chicago Avenue, Chicago) through July 3.