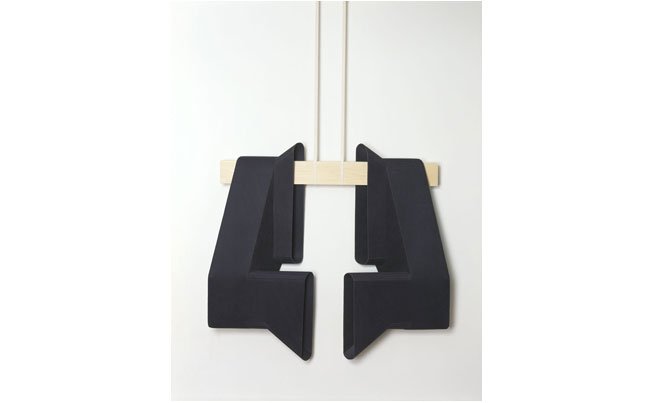 Diane Simpson solo exhibition at JTT
Oct. 18, 2013
NEW YORK – Diane Simpson will exhibit her sculptures and drawings in a solo exhibition at JTT gallery on the Lower East Side, opening October 27.
Chicago based artist Diane Simpson creates work that evolves from a diverse range of clothing and architectural sources. She begins her practice by making an isometric drawing of a three-dimensional object, such as an apron or a catcher's bib, and focuses on abstracting the object in part by incorporating an apparatus for the object: a stand or other means of hanging the object in space. Using this drawing as a schematic, she then re-constructs a three-dimensional object from the two-dimensional rendering. In a 2010 essay, by curator Lynne Warren accurately refers to Simpson as a "shape-sifter".
Many of Simpson's works are suspended; revealing form by the natural fall of material whether it is wood, perforated metals, linoleum, leather, or fabric.
Diverse visual sources are the genesis for Simpson's forms. Examples include: The Shrine at Medina, Ottoman art from the late 17th century; Bernhard and Hilla Becher's photography of technical constructions such as the lime kilns and cooling towers, circa 1960s; English court dresses from the mid 17th century; Otto Wagner's Post office Savings Bank in Vienna built in 1904; folding panniers made of cane or whalebone from about 1750; Three princesses of Saxony executed in 1535 by Lucas Cranach the Elder; Japanese armor from the 15th century; Charles Rennie Mackintosh's Willow Tea Room; a Farwell Furs advertisement published from 1919 to 1920; Art Deco design in the 96th street subway station in New York, antique mannequins; English thatched roofs.
JTT is extremely proud to present a solo exhibition of Simpson's work in New York. It will open on October 27th from 6 to 8pm and will run through December 15th. It will include a selection of pieces dated from 1992 through 2013.
Simpson received an MFA in 1978 and a BFA in 1971 from the School of the Art Institute of Chicago. Most recently, she had a solo exhibition at Corbett vs. Dempsey, Chicago, IL and in 2010, a 30-year retrospective exhibition of her sculpture and drawings was held at the Chicago Cultural Center. Other past solo exhibitions include Phyllis Kind Galleries, Chicago, IL and New York, NY; Racine Art Museum, Racine, WI; Herron Galleries, Indianapolis, IN and I Space Gallery, Chicago, IL.
Simpson's work is in the permanent collections of the Art Institute of Chicago; Museum of Contemporary Art, Chicago, IL; Illinois State Museum, Springfield, IL; Racine Art Museum, Racine, WI; Rockford Art Museum, Rockford, IL; The James R. Thompson Illinois Center, Chicago, IL and the Samek Art Gallery, Bucknell University, Lewiston, PA. Her work has been included in numerous group exhibitions including the Art Institute of Chicago, Museum of Contemporary Art, Chicago, IL and the Herbert F. Johnson Museum of Art, Cornell University, Ithaca, NY.
Opening reception: Sunday, October 27th, 6 – 8 pm. The exhibition runs through December 15, 2013. More information can be found here: jttnyc.com.
Image: Diane Simpson, Formal Wear, 1998, spunbond polyester, poplar, and cotton webbing, 47 x 50 x 7 inches (webbing length variable).