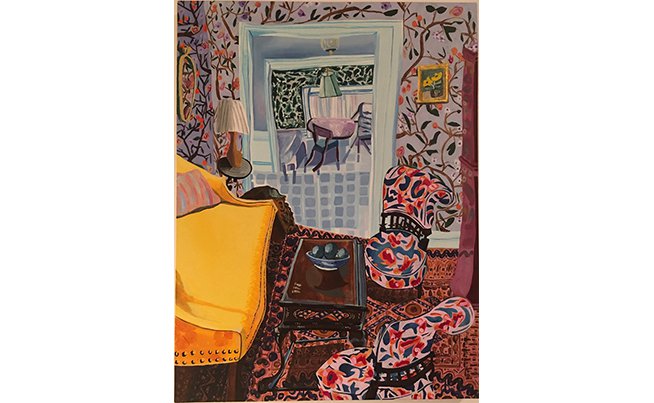 Gabrielle Garland Featured in INTERIORS: hello from the living room
Nov. 4, 2020
NEW YORK CITY – 1969 Gallery presents INTERIORS: hello from the living room, a group exhibition of 16 emerging and mid-career painters. This exhibition explores one subject of the global, shared experience of COVID-19: the interior space.
Since the beginning of 2020, people across the world have experienced what it is like to be in quarantine, learning to exist in a completely interior environment. The result has affected everyone in a range of ways, with some longing to escape and return to their regular routines, while others have reevaluated their ways of living. When quarantine began, many people chose to stay in their own homes, weathering the storm from a familiar location; others, for a myriad of reasons, left their lives behind for temporary, but indefinite shelters, as they await the word that it is safe to return. These interior spaces have borne witness to important moments as we have been forced to reflect on our lives and make new discoveries about ourselves.
Many of the artists in this exhibition have personified the objects in their spaces, allowing them to breathe new life. In Gabrielle Garland's paintings, each piece of the living room furniture has a specific personality. The lush space makes one question if there is drama between the wildly decorated chairs and the more conservative couch — the coffee table is the mediator, preventing living room warfare. The tension illustrates the combustible energy building between roommates and partners, stuck inside without the necessary space away from each other that the external world allows.
Click here for more information.