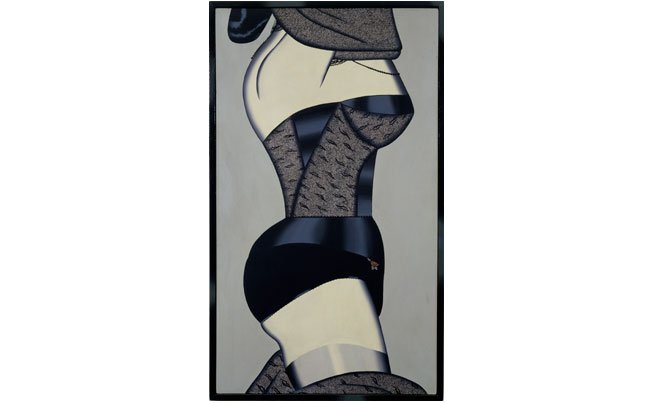 ICA Boston opens first solo museum exhibition of Christina Ramberg in 25 years
Nov. 13, 2013
BOSTON – The Institute of Contemporary Art/Boston (ICA) presents the first solo museum exhibition of Christina Ramberg (1946–1995) in 25 years, curated by Jenelle Porter.
A painter associated with the Chicago Imagists of the 1960s, Ramberg enjoyed modest success in her lifetime, but has been largely overlooked since her untimely death at age 49. Ramberg's subject was the body, in particular the female form, construed as a collection of parts—hands, hair, torso, and stand-in objects—and rendered with a discerning sense of line, shape, mass, color, and pattern. During the 10-year period on which this exhibition focuses—from 1971 to 1981—Ramberg's radical, enigmatic, and accomplished paintings moved towards increasing abstraction of the human figure. The ICA exhibition revisits the artist's work with new scholarship, examining Ramberg's engagement with gender politics and her approach to the merging of abstraction and figuration. On view from Nov. 13 through March 2, Christina Ramberg is organized by Jenelle Porter, Mannion Family Senior Curator.
Ramberg's style and subject matter show a range of influences and a broad knowledge of art and culture. Particular touchstones were Surrealism, early Renaissance painting, folk and outsider art, advertising, comics, and medical illustrations. Ramberg filled notebooks with sketches, and in scrapbooks catalogued found imagery of paper dolls, Japanese traditional clothing, sailing knots, medical illustrations, wig advertisements, and consumer catalogues for antiquated undergarments. She translated and transformed her source material through drawing, generating a vocabulary of forms she used to make paintings.
In Ramberg's earliest work, she explored the body through fragment and adornment: female bodies are bound in girdles, corsets, and sundry 1950s-era shaping undergarments. While the paintings might at first appear to traffic in erotic subversion, when evaluated cumulatively they demonstrate a preoccupation with 1950s gender constructions: a body forced into submission by restrictive undergarments designed to create an ideal female form.
In the mid-1970s, as Ramberg's figures became less sexualized and more grotesque, she achieved levels of formal coherence that demonstrate an increasing artistic maturity. In highly inventive works of 1980–81, she explored texture and composition through the rendering of clothing applied to dislocated forms. Entirely gone are the corseted ladies, cyborg armatures, and lace-clad volumes, and in their place are forms that assume the shape of a body, though not the flesh. Engaging her fascination with transformation, as reflected in the title Freeze and Melt, Ramberg recognized that some material—whether a liquid or the female body—is intrinsically mutable.

Christina Ramberg is accompanied by an exhibition catalogue published by the ICA . It includes an essay by Jenelle Porter, Mannion Family Senior Curator.
More information can be found on the ICA Boston website here.
Image: Christina Ramberg, Black Widow, 1971. Acrylic on masonite, 31 x 18 1/2 inches. Collection of the Illinois State Museum.