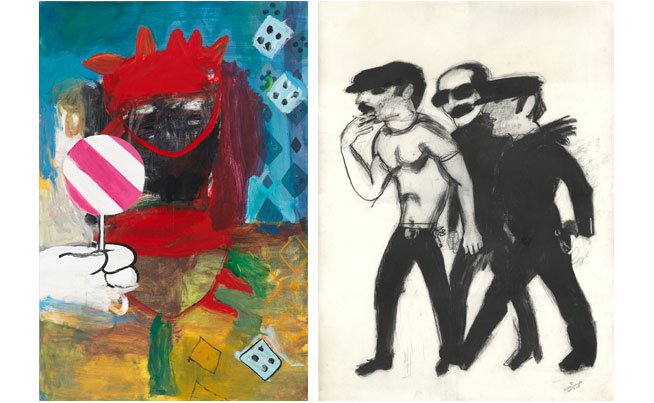 Margot Bergman & Jimmy Wright at NADA New York
May 4, 2013
NEW YORK – Corbett vs. Dempsey's 2013 NADA New York booth will feature two artists, Jimmy Wright and Margot Bergman. The gallery will offer a contrast of four new paintings by Bergman, who has been working in Chicago since the late 1950s, with a series of 1970s and 1980s drawings and text works by Wright, who has lived and worked in New York since 1974.
Over the last 15 years, Margot Bergman has explored collaborative paintings with unknown partners, over-painting thrift-store finds, but in this new series of large scale works she has gone it alone: inventing intensely vibrant floral paintings, often featuring a repeated diamond motif, imbued with a lurking sense of menace and comic perversity.
Juxtaposed with Bergman's paintings are a series of highly explicit drawings by Jimmy Wright, loosely titled Meat Market Underground & the Dream Cards, depicting nocturnal couplings in New York's gay underground of the mid 1970s. On the other side of the AIDS crisis, from the late 1980s, a selection of marvelous text-image works by Wright documents his vivid dream life, often surreally crossing the machinations of the art world with memories of the gay subculture of the previous decade. A group of these works was published last year in Butt magazine, and Corbett vs. Dempsey is proud to present the drawings in their first public exhibition.
NADA New York is open Friday, May 10, from 2pm–8pm; Saturday, May 11, from 10am–8pm; and Sunday, May 12, from 10am–5pm. Admission during these times is free, and open to the public.
NADA New York is located at Pier 36 – Basketball City, 299 South Street, at Montgomery Street.
————————————————————————————————————
Above Left image: Margot Bergman, Candy Man, 2012, acrylic on linen, 54 x 36 inches, Right image: Jimmy Wright, Uniform, 1975 graphite on paper, 30 x 22 inches
Installation shots (below)